The Congo's newest generation is receiving an immense amount of fashion styles and tips from their ancestors. Some residents of the twin Congolese capitals of Brazzaville and Kinshasa have long been known for their love of stylish dressing – in particular members of La Sape.
La Sape, also known as the Sapeurs, is a cultural movement in the Democratic Republic of the Congo where those involved excel in the carrying down and expression of fashion in the Congo. This cultural term comes from the french phrase Société des Ambianceurs et des Personnes Élégantes which translates to Society of Ambiance-Makers and Elegant People. the Sapeurs have recently become much more active in the Congo. They began to rep there style in the middle of streets and river towns: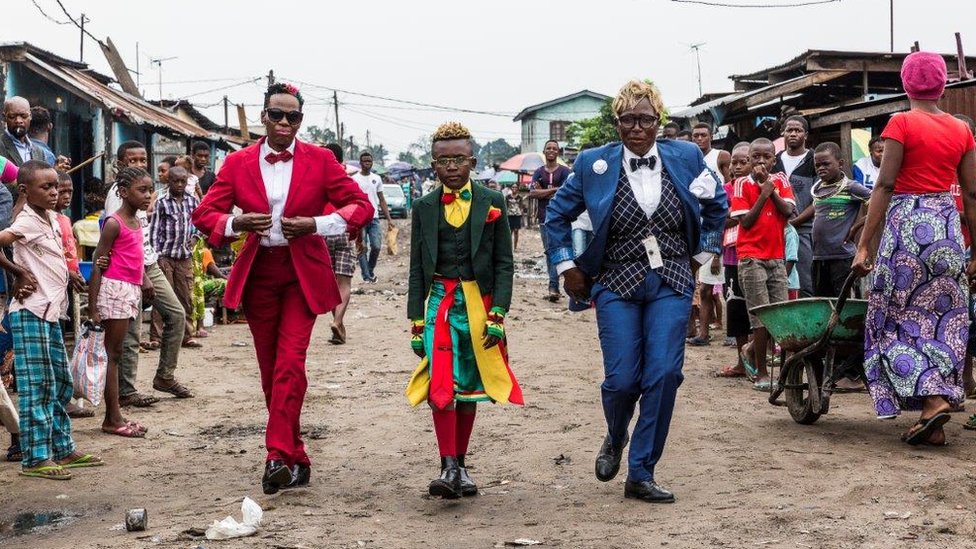 Across the River Congo in Brazzaville, 10-year-old Okili Nkoressa, the child in the center as well as the son of an ambassador in the capital of Kinshasa, uses the dirt roads as his catwalk. "My favorite item of clothing is my Yves Saint Laurent suit which I am wearing today," says Okili. Congo fashion, along with being stylish, is also quite expensive pricing closely to $1,500. Okili is also accompanied by two veterans of La Sape. On the left is the 52-year-old business women Ntsimba Marie and on the right 39-year-old policewoman Judith Nkoressa. Both of these La Sape members helped with putting together the style and colors for Okili Nkoressa's suave outfit. Judith and Ntsimba were also both contributors to the the origin of La Sape styles and outfits.
Perreira Franchisco, a 37-year-old computer consultant in Brazzaville, who calls himself "The Greatest Sapeur" also contributes to the cultural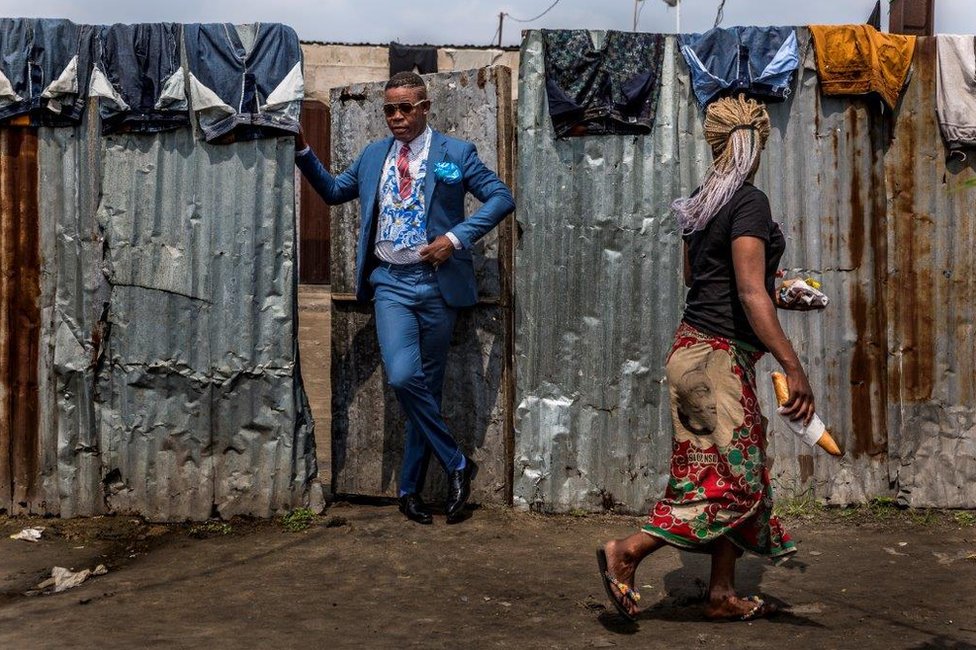 by displaying his style in Kinshasa, the capital of the Congo. Franchisco says, "I will now demonstrate, what is known as a clothing equation with 2 or 3 elements. So I will be wearing a Kenzo suit, made in Italy, with a backless vest by Jean Basinga, I'll wear a tie blue, white, red by Pierre Cardin and a pair of varnished tectonic shoes by John Foster. I love wearing my Kenzo suit – made in Italy!" Franchisco introduces a mathematical side of the La Sape style to his audience. Claiming that he is "the Greatest Sapeur" isn't a pipe dream either. Franchisco is well known across the Congo for his impertinent style and elegance. Ask anyone in the Congo about Mr. Franchisco.
La Sape is making a serious name for itself in the Congo right now and there cultural style is beginning to spread across the world and make its impact on other styles, especially those in the U.S.. the Saint Laurent branches int the U.S. are beginning to adapt similar styles to those seen in the Congo. Hopefully we can see more of this culture and style across the globe in the future